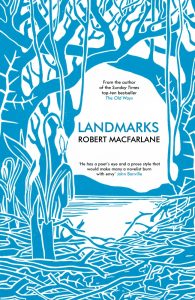 How can we love a place that we do not know? This is a question at the heart of Robert MacFarlane's much-heralded Landmarks. Simplistically billed as a glossary (or word-hoard) of place, Landmarks is a series of 11 essays that pay homage to specific landscapes and the writers who have brought them to life. These writers are just as much MacFarlane's landmarks as the places they describe.
Landmarks by Robert Mac Farlane
Hamish Hamilton, 2015, 400 Pages
Why? Because they have helped MacFarlane, an award-winning author and fellow at Cambridge, deepen his engagement with place. How? Because of 'the power of language … to shape our sense of place.' The logic is that to love and value a place, you not only need to experience it; you need a language to describe it – both to yourself and to others.
MacFarlane gives the example of how the nuanced descriptions of the Brindled Moore on the Isle of Lewis turned back a proposed wind farm. Locals shared their many names and expressions for the landscapes subtleties. This action refuted the language of terra nullius advanced by the would-be developers, AMEC and British Energy.
But at a personal level, it's clear that MacFarlane believes that reading about a place leads to more meaningful connections with it. To illustrate this point, let's visit the Cairngorms, an almost-Arctic mountain range in the eastern Highlands of Scotland. For MacFarlane, they are 'my first mountain range, and … still the hills that I know best.' But he is able to experience them anew through the reclusive Nan Sheperd's book The Living Mountain.
The Living Mountain, which MacFarlane has read around a dozen times, is an introvert's effort to map and share the sublime mindlessness of the Cairngorms. With Shepherd as guide, he wanders into the mountains to live them as she did: without time pressures, on their own semi-eternal terms. Reflecting back on the walk he writes: 'Walking under Shepherd's influence, led by her language, I had enjoyed an astonishing time of gifts. The eagle, the geese, the blue-gold loch, the perihelion, the mists, the springs, those few days in the hills had compressed into them a year's worth of marvels – and each had its precedent in The Living Mountain.'
I got Landmarks as a birthday present from my partner and devoured it. Much more quickly than I thought I might. MacFarlane is an accomplished, well-read author who binds his love of literature and land into one, joyous volume. The landscapes he explores range from the predictable (mountains, rivers, lakes and forests) to the edgy territory of the Third Landscape in disturbed, urban environments. The author-guides who accompany him are likewise both renowned and obscure, from naturalist John Muir to 19th century journalist and urban rambler Robert Jefferies. Each chapter includes a specific glossary of local, scientific or poetic terms, though these are best consumed in the context of MacFarlane's factor-criticism. They are fairly dry on their own.
Regardless of what landscapes you love, this book is essential reading if you want walking to be underlaid by knowledge, whether at an emotional, philosophical or scientific level.
For MacFarlane, to be able to read a landscape requires being able to read about it: a vocabulary of place is almost as important as walking through it. And it's certainly more important than scrolling your way through a feed of beautiful Instagram images on a train, absent-mindedly loving this photo or that while the world blurs past outside.