From temperate rainforest through to sub-alpine swamps: this three-day ramble takes in a range of ecosystems. It's a glorious way to see out winter, provided you don't mind a big slog uphill on Day 1…
Barrington Tops is one of those places I've never explored as much as I'd like; as a Sydneysider, I'm spoilt by a cornucopia of walking destinations within a two-hour drive or train ride. However, the devastating 2019-20 bush fires that had swept across East Coast Australia forced me to look further afield for my annual hike with old uni mates John and Shaun. COVID-19 meant that I couldn't look too far afield either.
Our destination for this trip was Wombat creek where we planned to set up a remote base camp for a couple of nights. From there we'd explore the Barrington Tops National Park plateau, an area untouched by this year's fires. Our access route would be the 10km Corker Trail, a service trail which follows a fairly continuous spur all the way from Lagoon Pinch picnic area to an altitude of about 1,300-1,400m, an elevation gain of some 800m.
But if we were driving that far, we figured we may as well fit in all the walking we could: cue the alternative starting point of William River picnic area. From there we'd follow the Rocky Crossing trail, adding another 8km and 500 or 600m of elevation to the day.
We were in our early 40s, hadn't done a major hike all year, and our only preparation was a few weight sessions and some stair walking. What could go wrong?
The Corker Trail earns its name
For most of the day, my navigation had been spot on. To be fair, getting lost on a service trail is hard but at least I'd managed to reliably pinpoint our progress on the topo map.
'The good news,' I told my mates, 'is that we're tracking to schedule. The bad news is that we're about to gain 300m in the space of a kilometre. It's going to be brutal.'
And brutal it was: a relentless slog that beat the shit of John in particular (he later admitted to being very hungover). At least the air was crisp – no more than 15 degrees – and the track was in decent condition. A rest or two later and we were close to the top.
Shaun and I had made an early start from Sydney, picking up John (a Novocastrian) en-route. We hit the trail around 10:30am. Despite missing the Rocky Crossing trailhead and adding an extra kilometre or so to the day (courtesy of the Blue Gum Loop Trail – very pretty by the way), we were odds on to reach camp by sunset.
At about 1,300m elevation snow started to appear – remnants from the previous weekend's blizzard-like cold snap. At first the snow was confined to small patches, hidden in the nook of an Antarctic beech's buttress roots or the top of a tree fern's trunk. As we rose higher more and more white appeared to our surprise and delight.
One heartbreaker of an ascent later (we celebrated too soon!), we cheered to see the signed turn-off to Wombat Creek surrounded by a full-on snow drift. The air had a real bite now and the sun had fallen behind the treetops, but we'd made it with daylight to spare.
Wombat Creek
It's very easy to spend whole blog posts going on about your camping menu and occasionally, just occasionally, it's warranted. My benchmark for such epicurean musing is now finely marbled wagyu steaks with woodfired/charred cabbage and potatoes.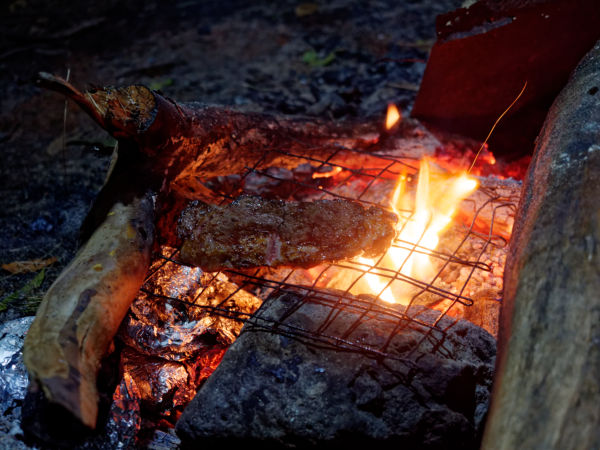 John, an amazing cook who we'd cleverly put in charge of dinner for Day 1, had taken one for the team and lugged up all the ingredients for one of the finest backcountry feasts I've ever had. But that's one of the joys of setting up a backcountry basecamp: you can afford the extra weight of gourmet eating while still enjoying the serenity and simplicity of being in the wild.
For my part, I chipped in a 2012 vintage Seppelt Chalambar Shiraz, while Shaun's Rare Breed bourbon kept the cheer going. We were glad to eat in the warm halo of the campfire that night as the temperature flirted with zero and the treetops gazed down upon us.
Wombat Creek is a sheltered campground, set in a little clearing amid rainforest trees, a hundred metres away from a crystal-clear creek. It has a half dozen sites, all with fire pits and most with a decent log to sit on.
From Creek to Peak to Pool and back
Carey's Peak – a couple of kilometres west of Wombat Creek – isn't the highest point in the park but has expansive views south across the Hunter Valley. There's also a decent but dry campsite right next to it.
Turns out you can also get mobile reception (if you're with Telstra), which allowed us to crunch around in the snow while checking in with our loved ones to assure them we hadn't died of exposure. The downside is that we were also reconnecting to the worries of everyday life and, in Shaun's case, news of unexpected home improvements.
The service trails in this section were wide and had been churned up by heavy machinery recently. The walking wasn't the most inspiring and we were pleased to turn east towards Saxby Swamp, the first of several sub-alpine swamps we'd encounter that day.
Recent hazard reduction burning had blackened the snow gum and other sclerophyll forests we encountered for much of the morning. There were also large piles of horse manure, signalling the presence of a healthy brumby population that was as unwelcome as the dieback (phytophthora) that has ravaged parts of the park.
The open stretch along Edwards Swamp was exposed and took longer than anticipated: we were grateful to leap across a very full creek and make a right turn toward Junction Pools through some unburnt snow gum forest.
'We should have camped here,' said John as he lay back on the grassy shores of Barrington Creek, just downstream from the Pools. 'What a spot.'
With nice flat ground, a permanent water source and the possibility of catching trout for dinner it was a fair point. Still I'm a big fan of the more-remote and walk-in only Wombat Creek; Junction Pools can be accessed by car, which means solitude and quiet are at others' discretion. As if to underline the point, a family of dirt bikers revved their motors and sped away.
The most basic camp site we encountered that day was at Black Swamp. Arguably it was also the most stunning, with vistas of forested hills across the swamp's open ground. The downsides: no pit toilet or running water (it's roughly an hour's walk from both Wombat Creek and Junction Pool via the Aeroplane Hill track).
In fact, the whole stretch of bush that skirts Black Swamp was my favourite section of the day: grand snow gums arch and twist over an understorey of ferns, shrubs and grasses. A crescent honeyeater became the yellow-winged highlight of the whole trip's birdwatching. This was especially true after the experience of walking up Aeroplane Hill, which had all the charm of a DMZ. It looked like it had been partially cleared, presumably to create a firebreak.
Uncorking the Corker Trail
I definitely prefer a circuit walk for the variety of ecosystems and vistas. But you also notice things you hadn't when you're forced to retrace your steps to the trailhead.
So it was with the Corker Trail: not concerned by tired legs or the prospect of setting up camp in the dark, I could fully appreciate the magnificent Antarctic beech we had marched past two days earlier. The beech are unique to the Gondwanan rainforests that live on in higher-altitude ecosystems along the East coast. Look down and you'll be entranced by the mossy architecture of their root systems. Stare up and you'll lose yourself in the leaf-patterned sky where mazes of blue peer through the branches (a phenomenon known as crown shyness that doesn't occur with eucalypts).
Back on the Rocking Crossing Trail I got lost in my own thoughts and the sharp, tuneful call-and-reply of whip birds. Giant strangler figs that had outlived or swallowed whatever tree they'd first strangled rose up here and there in the rain forest.
And that was a brilliant way to end our getaway: adrift in the mental space created by three days in stunning bush with two of my closest friends.
Trail notes
Map: Barrington Tops 1:25000
Day 1: Williams River picnic area to Wombat Creek, via Blue Gum, Rock Crossing and Corker trails – about 18.5km, with about 1300 or 1400m of elevation gain. Total time 6-6.5 hours, including lunch and rests.
Day 2: Wombat Creek – Junction Pools circuit via Edwards Swamp – about 11-12km of walking with a bit of up and down. Leave your packs at Wombat Creek. About 5.5 hours, including a very long and luxurious lunch stop at Junction Pools.
Day 3: Return to Williams River picnic area 18km, pretty much all downhill. Total time about 5 hours, no lunch break.
Camping: Wombat Creek is a gorgeous little campground with five sites. Make sure you keep it that way by packing all your rubbish out with you. There are a few extra informal sites near the toilets (more pleasant than it sounds). Other options include Junction Pools and Black Swamp. Bookings necessary (during COVID-19 at least).
Best seasons: Autumn – Spring (you'd have to lug a lot of water up the Corker Trail otherwise).
Safety concerns:

Come prepared for all conditions: you're camping at about 1400m so massive storms and cold snaps are very possible

Make sure you have enough water to get up the Corker Trail safely (at least 1.5L/person) – you won't find any along the way and at least one of our crew was a bit dehydrated by the time we got to the top.

Small tip: make sure you hunt for firewood well away from the campgrounds as these areas are pretty popular.