If you're looking to prolong the life of that sleeping bag or jacket (or stop water getting in your tent after you burnt a hole in it on the trail as I did once), Gear Aid's Tenacious Tape is a must. It's a highly adhesive repair tape that will stick to pretty much anything, repairing holes, worn seams, etc.

Warning: this post contains some very, very unsexy photos of beat up gear.
There are many reasons to patch up your outdoors gear. Money is the number one consideration. But sustainability should be up there too: the longer you use a piece of kit, the less resources you use. Over time, the gear also gathers a scratched-up patina and becomes a beloved repository of outdoor adventure memories. The question is how?

I've used Tenacious Tape for a few years now on jackets, backpacks and bicycle panniers. To my surprise, the repairs have ended up being semi-permanent. If you want proof of how long these repairs last, think about the most inhospitable environment you can for an adhesive: full submersion in cold waters. 
Enter exhibit A: my Gregory Stout 40. I bought this pack as a lightweight overnight pack that could also be used as a canyoning bag. Sadly, its nylon ripstop fabric didn't fare as well as I would have liked against the abrasive, sharp sandstone found in many a Blue Mountains canyon. On my first canyon, I tore a choice hole in its base. Enter Tenacious Tape. I patched it up a-ok and the tape has lasted at least another half dozen canyons.
Exhibit B: my Ortlieb pannier. As a daily bicycle commuter who rides pretty much in all weather conditions, my panniers need to be 100% waterproof. Which they were, until a small hole developed – possibly after slipping over on my bike. Again the Tenacious Tape came to the rescue: a small patch, cut to a round, applied to either side of the pannier has now lasted years of additional commuting. It's still going!
How to apply
Application is pretty straight forward. I'll demonstrate by showing you how I patched up a small hole on my bicycle pannier (the old tape patch had started to peel after many years of service).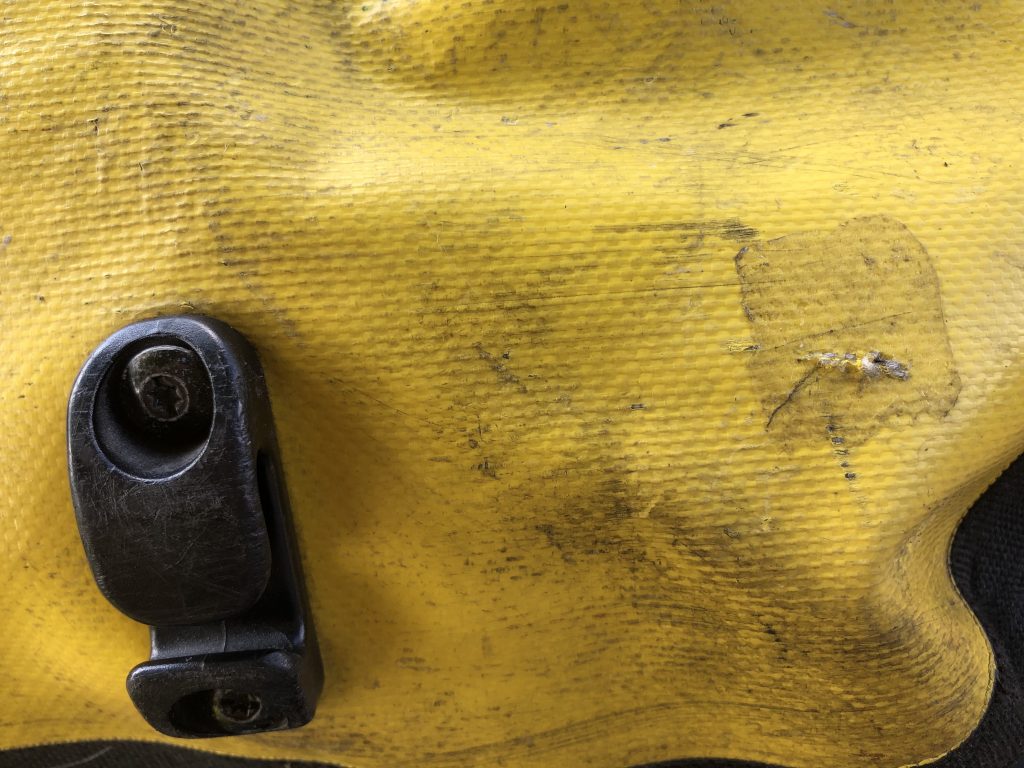 Cut the patch to size – two patches if the hole is sizeable as you'll need to place a patch on both sides. Gear Aid recommends a circular patch as it's less likely to peel afterwards without corners.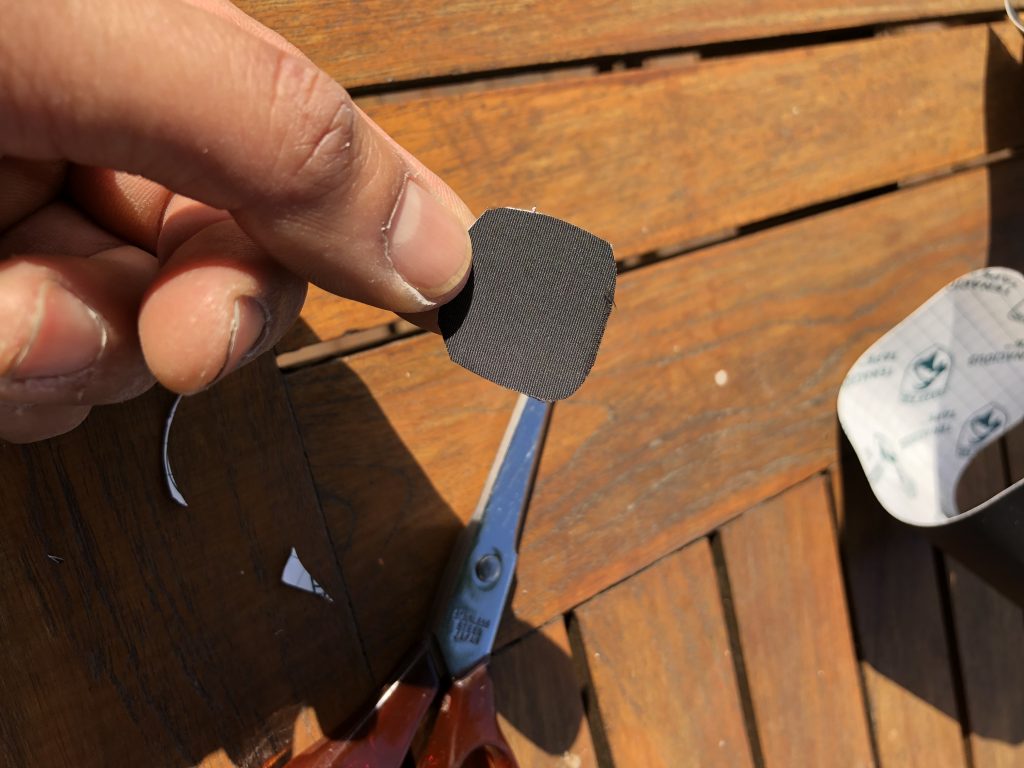 Clean the surface in question – preferably with an alcohol solution like methylated spirits (or you could use a swab from your first aid kit if you're on the trail)
Apply the patch with firm pressure and press down for a minute or so.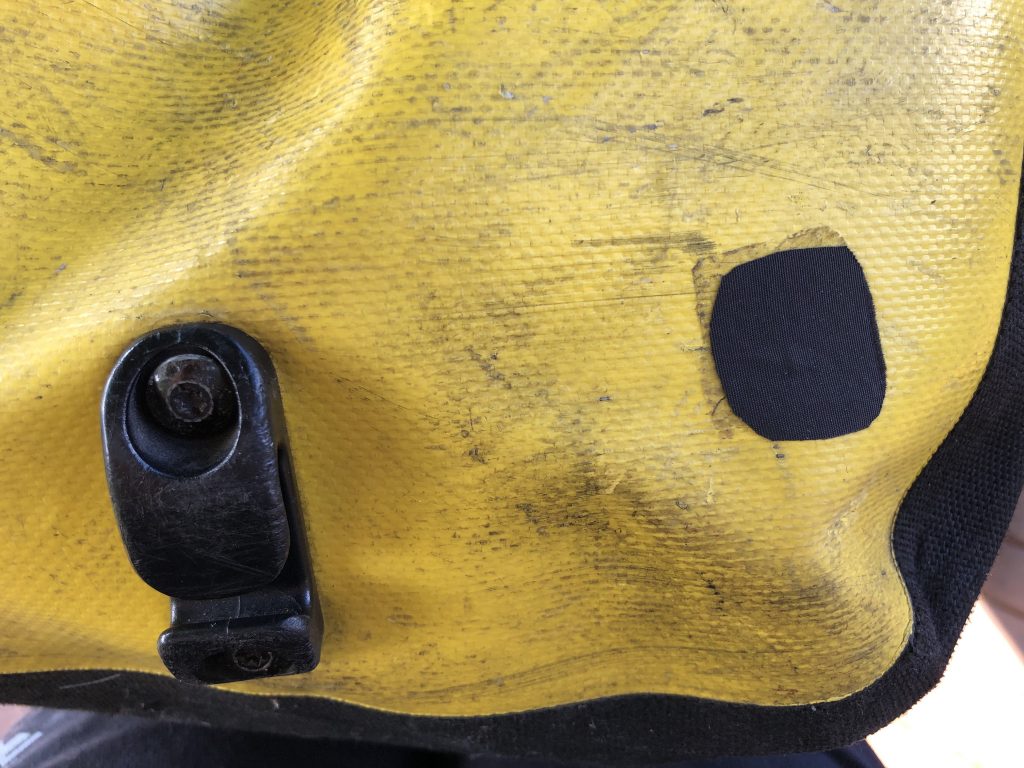 Disclaimer: I received a couple of rolls of Tenacious Tape to review but I already owned some and have been using it for years!
A must for both your home and backcountry field repair kit
If any piece of your beloved outdoor gear has developed a hole or tear, Tenacious Tape is a repair that will most likely last you for years. I haven't used it on a tent yet but I'm confident that it would do the job, even if only in the short term. Duct tape is the other option but I don't think it's quite as aesthetic or long-lasting - I haven't done a serious side-by-side comparison so you're welcome to do so. You can get clear repair tape though I think a black patch looks fine. It's pretty expensive, mind you, so best to use it sparingly!